Press Release – 19/11/10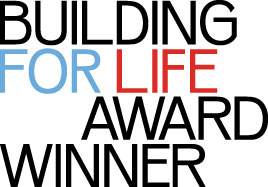 Buckinghamshire based developer Aston Homes is overjoyed at being one of only ten companies in the UK to receive a prestigious 'Building for Life' award for its work.  The company received the award for its exclusive 'Cometa' development in High Wycombe, which was described by judges as being 'an exceptional suburban infill scheme which deserves to be celebrated'.
Cometa is a small development of 12 contemporary luxury apartments set in landscaped communal gardens situated two miles from the centre of High Wycombe. The development received a silver Building For Life standard in October along with 54 other projects around the country, before being one of only a few to go on to receive a sought after Building for Life award this month (November).  The judge's decision was based on the development's design, character, location and construction.
Jeremy Caine, managing director at Aston Homes, says:  "Receiving a Building for Life award for Cometa is the best accolade Aston Homes could hope for.  The report that was created by the Building for Life judges provides in great detail how we have, together with local architect Richard Clark, developed a high quality residential environment for the town and its residents.
"The report also provides feedback from the people living in and around the development.  One of our tenants said they love living at Cometa because of the openness and the light spaces that have been created; and the views and the close presence of nature on both sides of the building."
Jeremy Caine says the motivation behind the Cometa project was to create a development that ticked all the boxes in terms of design, yet exceeded the criteria set out in the Government's Code for Sustainable Homes.  "Cometa is in line with the government's 'Zero Carbon Homes by 2016' initiative," he says.  "However, we have taken things a step further by adding some sophisticated features so that it is easy for the tenants to sustain an environmental lifestyle on a day to day basis once they have moved in.  This all makes Cometa a prime example of how development should be for a modern age and we are delighted that the Building For Life judges – as well as our tenants – agree."
Building for Life, which is run by the Commission for Architecture and the Built Environment (CABE) and the Home Builders Federation (HBF), is the national standard for well designed homes and neighbourhoods.  Each year outstanding schemes that achieved a Building for Life standard are selected by the Building for Life judging panel to receive a Building for Life award.  The winners were announced at a London based event on the 18th November, 2010, which was attended by Jeremy Caine, Richard Clark and a representative of Wycombe District Council.
Councillor Jean Teesdale, Wycombe District Council's Cabinet member for Planning and Sustainability said:  "I would like to offer my congratulations to all those involved with the planning and building of this development.  The Cometa apartments are an attractive addition to High Wycombe and proof that quality design and good value can go hand in hand. The Building for Life award is a fantastic achievement and something for future developers to aspire to."